They're selling Barack Obama plates.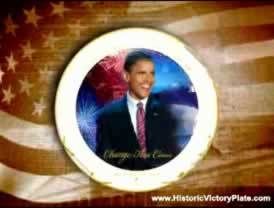 See?
I'm not making this crap up.
Like he's Elvis. Or Dale Earnhardt.
Can you believe that?
Think about it for a second. Someone is using capitalism to make money off the image of a socialist.
I'm not sure how I feel about that.
Anyway, we've got a cat. And we pamper that darn cat. Actually buy cat food for it. And I don't mean Little Friskies in a box. I'm talking about stuff in pouches. And in cans. The single serving cans. That cost about a dollar each. I don't know why. I mean, it's a cat.
But, it does say one thing about us. We like the cat.
But still, we'll put the cat food in a paper plate. Or in a used Stouffer's lasagna container. Or something.
But, we'd never put it on a Barack Obama plate. I mean, I spend a dollar for a single-serving can of cat food. That means I like my cat. So I wouldn't make the cat eat off a Barack Obama plate.
But, I assume there are some actual uses for a Barack Obama plate.
I just can't think of any.
Send to Kindle