Any other business?

Mr. Chairman, I have one final item.

The chair recognizes Howard Atkins.

Dick, it's no secret that we're hurting…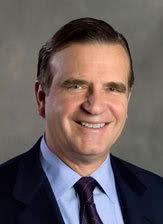 You can say that again.

Damn, Bob, you're someone to talk.

As I was saying, we're hurting. A year ago, our stock was over $33 a share. And, less than 5 months ago, we were nearly $40 a share. We're barely 1/3 of that today.

Well, you're Chief Financial Officer, Howard. What are you suggesting?
Continue reading 'What happens in the Wells Fargo boardroom…' »
Send to Kindle